Product Introduction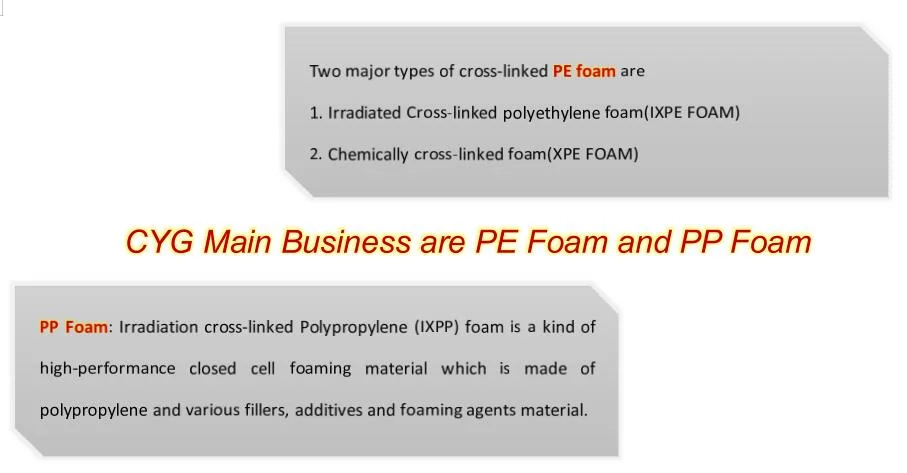 Two major types of cross-linked PE foam are:
1. Irradiated Crosslinked polyethylene foam(IXPE FOAM) is very fine celled microcellular foam. Irradiated crosslinked foam is used for medical applications, heart forming, and high end protective packaging and consumer products. This foam can actually be printed on very clearly.
2. Chemically crosslinked foam(XPE FOAM) also has good physical properties, but has a larger more random cell structure. Chemically crosslinked foam can also be used for packaging, heat forming and a large variety of applications.


Specification
Name
XPE Aluminum Foam Thermal insulation material
Usesage

1.Can be installed on roof, wall or floor, resist over 80% external heat from buildings, protect wall, resist thermal shock and sudden cold, etc.
2.Dampproof is the isolated layer between floor and ground ,which layed close to ground in order to enhance moisture protection ,flooring protection, increase flexiblity and make the ground flat.
3.Heat insulation and light inflecting in construction and protection for both cold water and hot water pipe
4.Separation of refrigerator; warm keeping for center air-conditioner, refrigerator and other home appliances
5. Thermal insulation, sound absorption and noise reduction for car, train, refrigerator car and laboratory; moisture proof cushion for traveling
6. Packing for special products and cold storage
7. Can be made into different colors and anti-static according to customers specific requirements to reach the standards of top grade decoration.

Materials
XPE foam, Aluminum foil, adhesive
Thickness
2mm-1.5cm (Special design for requirements
Color
black, blue, gray, green, orange (Special design for requirements)
Size
design for requirements
Feature

1.waterproor,good breathability
2.softly handle, good tearing strength
3.light weight ,good flexibility, and cushioning
4.invariable if it is attacked repeatedly ,good highly resistant to shock.
5.isolated foam structure, less ,low thermal conductivity and superior heat insulation
6.100%sealed chamber, good sound-absorbing, Noise prevention.
Performance


Production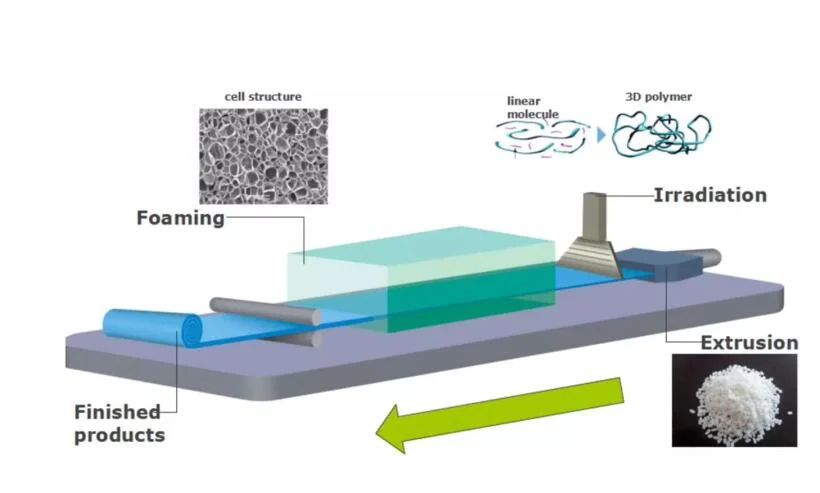 About CYG

We are the leading manufacturer for XPE , IXPE foam,ESD foam for more than 16 years, all our products can be used for thermal insulation,waterproof,shockproof,etc. and also our products get the UL, ISO, SGS, Rohs, Reach , CE approval. and we have 11 production lines for production.Hope to cooperate with you.



FQA


1) What is closed-cell?

Polyethylene foam is closed-cell, meaning it consists of cells so tightly packed together that it gives the appearance of one uniform structure.
The reality is that the individual cells within polyethylene foam do not physically connect to one another.
This cellular formation is similar to fish caught in a fisherman's net.


2) Why choose Low-density polyethylene foam?

Low-density polyethylene foam has numerous applications because of its many desirable properties including water-resistance, chemical resistance, energy-absorbance, buoyancy and cushioning characteristics. Compressive strength is greater in denser foams, decreasing as density decreases. Low-density foams tend to exhibit more compressive creep, meaning they become less thick over time than higher-density foams.


3) How can I know the suitable foam density I need?

Our PE foam density is between 25 kg/m3 and 240 kg/m3
We can provide the best solution for you according to the application, Density, hardness, thickness.And The free sample is available for your confirmation and text